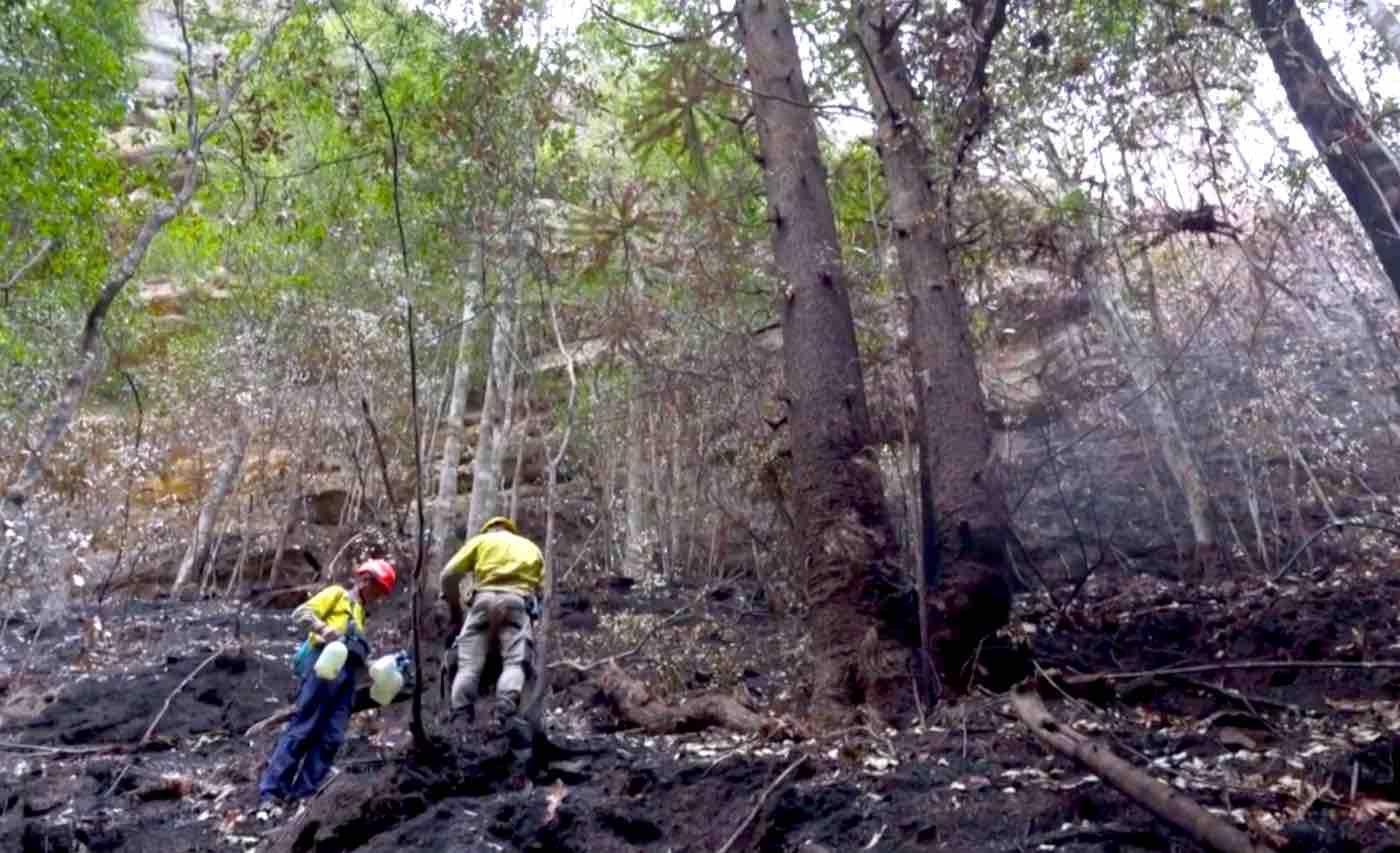 Conservationists are celebrating the success of a mission to save the world's last remaining "dinosaur trees" from the Australian bushfires.
The ancient Wollemi Pine was thought to be extinct until a small grouping of the prehistoric trees was discovered in the mountains roughly 124 miles northwest (200 kilometers) of Sydney back in 1996.
Fossil records show that the pines existed as far back as 200 million years ago—and since these 200 trees are the only known Wollemi Pines left in the wild, their location has remained a closely-kept secret in order to ensure their protection.
MORE: More Than 200 Volunteer Firefighters From US and Canada Have Deployed to Help With Australian Bushfires
When Australian legislators heard that the bushfires—which have been raging across New South Wales since September—were edging closer to the Wollemi grove, a team of specialized firefighters was airlifted onto the scene.
"These pines outlived the dinosaurs, so when we saw the fire approaching we realized we had to do everything we could to save them," said New South Wales state Environment Minister Matt Kean.
Just one week before the fires hit the surrounding forests, the firefighters sprayed the trees with fire retardant and installed an irrigation system to keep the area moist. As the fire drew closer, air tankers dumped water around the perimeter of the grove and kept the flames at bay.
LOOK: Thousands of Aussies Are Heartened by Photos of Charred Landscapes Already Recovering From Bushfires
Although a few of the dinosaur trees were lightly singed by the blaze, the safety measures successfully protected the grove—and the surrounding fires were reportedly contained earlier this week.
Richard Kingsford, director of the Center for Ecosystem Science at the University of NSW, hailed the firefighting success to The Sydney Morning Herald: "This is such a remarkable species in terms of ecology and evolution … and only found in Australia."
"It's something like the Opera House of the natural world," he added. "Losing it would have added to the catastrophe we have seen elsewhere."
(WATCH the AFP news coverage below) – Photo by AFP News Agency