by Zohara M. Hieronimus, D.H.L.
Our sizeable garden on Dogwood Farm first grew out of a meditation I had in 2008, which showed me the importance of growing more than a back door garden patch, something I had always maintained.
Why? Simply to see what it would take to be somewhat more self-sufficient. The answer, of course, as any gardener knows, or farmers who have lived for millennium working the earth know: it takes a lot of labor, determination, dedication, consistency, humility and energy — not to mention financial resources — to create a thriving garden.
We created ten raised beds measuring 4×10 feet each made from felled trees on our 40-acre property. These make it possible to tend from both sides without having to walk into the beds themselves. The garden is actually a shade garden, having only six hours of sun a day, so over the years it has taken experimentation to learn what thrives and what does not.
Split rail fencing topped by colored flags usually seen in used car lots seem to dissuade most deer from jumping in to banquet on our garden. They made it over only once this summer, despite not posting our alien-headed scarecrow in the middle this year.
As our dear friend the late Christopher Bird reminded the world in his Secret Life of Plants, it is wise to pray over every seed we plant. I talk to all the plants and animals all the time, doing my best to elevate our land. I'm sure it's the same for every other person on Earth tending their little corners of the world.
Planting our garden each year is an adventure full of change, surprise, reward, and, of course, disappointment. Like most gardeners, by January I am ready to plant. Waiting for the last frost to pass can be agonizing as I smell the fresh-turned soil in my head and feel my hands not in gloves shoveling snow, but turning over and digging up dirt and worms. This garden was planned by January, in between shoveling out from one massive blizzard after another. We had snow on the ground for so long that for the first time on Dogwood Farm, we actually got some cracked corn to feed the deer.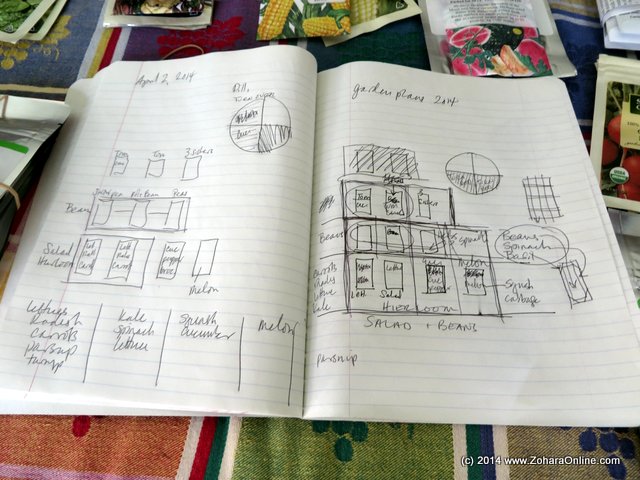 While Dr. Bob goes out into the world in so many arenas, I tend to the garden, the woodlands, and our dogs. I spent the entire summer nursing two different dogs' wounded feet. I stay busy tending our home, my own work in animal telepathy, the esoteric healing arts, and the ongoing writing and broadcasting. I am finding at the age of 60 such great peace on the land and a natural need for seclusion in general after decades of a very public life. When family visit, we go to the garden first.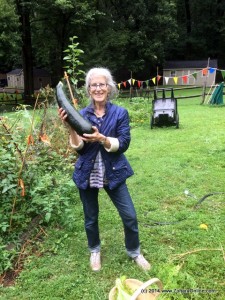 Our garden seeds were ordered this year in February from Annie's Heirloom Seeds in Virginia, www.AnniesHeirloomseeds.com (800) 313-9140, whose stock I heartily recommend. Planting began earlier this year than before; after a brutal winter I was ready to get started by late March. Everything was in the ground by Mother's Day, one of my life-long gardening traditions.
We have some lovely fruit trees and bushes, including blueberries, raspberries, currants, pear and peach trees, but sadly most of the gorgeous fruit is usually eaten by some critter before we harvest them. This also happens to our strawberries, watermelon and cantaloupe.
Beans
When I was a child my Father called me "Beans", referring to my skinny, muscular physique, and ability to climb anything. Today I love growing and eating all kinds of beans!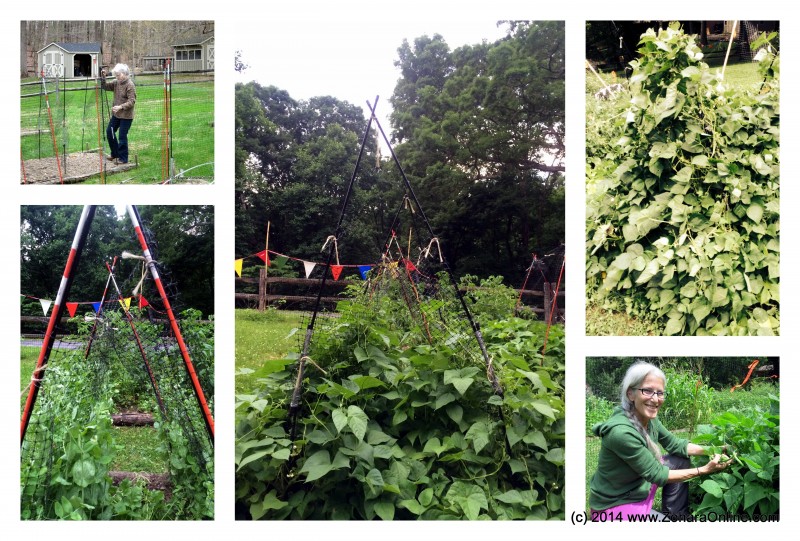 I made the trellises for the beans from driveway snow markers (which had proved vital this past winter). They are very strong and flexible, which I found ideal when I covered them with light deer netting, attached by simple twine. All of these materials are fairly inexpensive and easy to work with allowing for creative arches, tunnels and tepees.
Especially with the beans, I try to plant about four or five days prior to the full moon. The full moon in Taurus (May) is a most powerful lunar force, and it pulls the beans up out of the ground. We see sprouts in four days versus more than 10 days or two weeks if planted during a waning moon in another month.
This year, our organic Dogwood Farm garden was grown entirely of heirloom seeds except for the tomatoes, which began as small plants. My hope is to save some of the seeds for planting next year — my own way of rebelling against GMOs and the corporations destroying our planet's seed bank.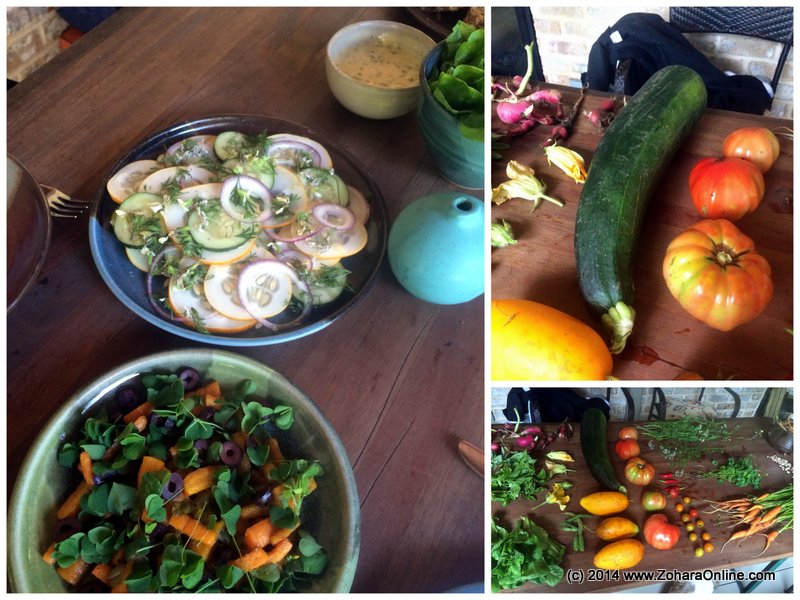 The garden this year included radishes, beets, two kinds of spinach, butternut, romaine, and arugula lettuces, chives, carrots, tomatoes (large red and red purple and cherry yellow and red), pole beans, bush beans, edamame beans, sugar peas, snap peas, hot and sweet peppers, yellow and green cucumbers, zucchini, squash, corn, and various herbs, mainly basil, dill, cilantro, oregano, parsley, lemon balm, mint, and chamomile.
What thrived the most were the spinach, zucchini, beans, all the lettuces, tomatoes, cucumbers and herbs. We had bounty all summer long, and some things grew enormously large.
I leave some of the late beds with champion weeds, and we share our garden with rabbit, gopher, woodchuck, squirrel, raccoon, deer, beetles and an occasional dog of ours who likes to eat some of the produce. At the end of summer we allow some of the plants go to seed, like the cherry tomatoes, and they regrow the following year.
Even our "weeds" are valuable. Our daughter-in-law Elise, a professional chef, pointed out the "insane amounts of wild purslane and sorrel," that she pays $5 for a little branch for at the Brooklyn farmer's market where she and our daughter Anna shop for their tasting menu micro-restaurant called Take Root. We also benefit from the dandelion and numerous other natural growers in our garden that come in with the wind and soil for free.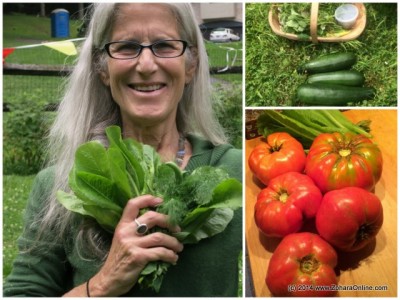 It brings me great joy to share a little of our Dogwood Farm 2014 garden with you. If you think you don't get enough sun to grow your own vegetables, I can assure you that in the summer, even in a six hour sun garden like ours, which is technically a shade garden, you can still have great success with spinach, lettuces, and beans. These all grow beautifully from seed and produce the most food from the least amount of space. Planting young tomatoes in early May means salads full of them in August. And it's great to share with the whole family and visitors.