A working garden generally includes at least one lawn care rider, wheel barrow and a host of tools, straw, seed, twine, stakes, fencing and more. It won't all fit in the garage…
Our property is made of sloping hill, woods and field totaling 40 acres. Less than ten acres  are partially cleared.  Of that, much is wetlands and steep slope. Traditionally it would have been called a hollow, set between two hills, a low laying area and steep inclines with two streams and a spring in active flow. Finding an area, close to the garden that was level enough to use for our buildings, posed our first challenge. Here the dogs in one picture and I in another, stand where the sheds will go.
One of our funnier challenges was that we were planning mid-winter for everything we would do in the spring. The ground was frozen in January and February, so putting flags in the ground took gloves and patience and some probing. At each new snow fall we would draw the shed locations in the snow. At each snow melt lose them.
When we finalized their placement, accounting for the fall of the hill, the purpose of each shed and their relationship to each other, we used a tiller on a warmer day in  mid-march to outline their locations.
We hired an outside crew to prepare the shed beds which required excavation, leveling and filling with 6-8" of gravel, to support the weight of the sheds once put in place.
Once built we created mounds around each shed and used our grass sod, shoveled out of each newly built garden bed to keep the soil in place before the spring made planting grass a possibility.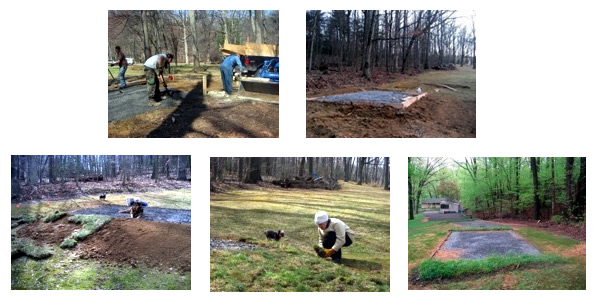 We selected a 10×20 work shed for our basic farm office and repair shop. The tool shed and run in is 10×16 and is for garden and other tools that we need quick access to.

The Chicken Coop ( the little one with the windows) is to house the 12 hens we are raising for egg production. All three out buildings were purchased  and delivered, already assembled by Quaker craftsmen, from Lancaster Barns in PA. Whether  you are looking for a small back yard shed or large barn, their products are exceptionally well built.  We choose the Cape Cod looking primary deluxe shed, and two board and batten sheds. They are painted uniformly with a color called clay and the trim is almond. This was done to integrate them into the two houses already on the property.
Summary
I drew sheds for several weeks on paper and in  long drawing sessions in January consisting of sheds turned in many directions in drawings in the snow. The final design was constrained by the land more than desire in terms of final layout. Between the third week of February when the sheds were ordered until April 13 when they were all put in place, the  working sheds were a significant part of developing the farmette project as we planned ahead.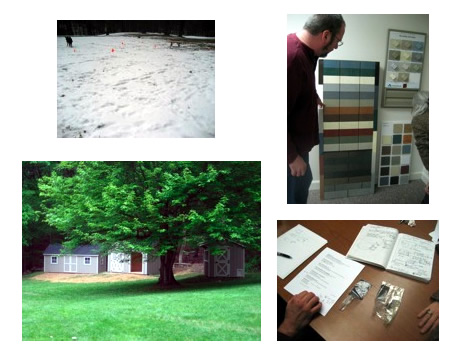 All three sheds work as a  unit, office/repair shop; tool shed and run in; and the chicken coop. We do not yet have our shed paths and ramps completed, but the first phase of outbuilding installation has been finished. We considered remodeling an old pole and barn garage instead of investing in the exact sheds we needed, and choose the latter, planning to use it later to house larger farm equipment like a tractor and plows. Creating the proper management tools and storage for the farmette equipment, is part of the process of planning properly. Protecting one's investment in tools, is a necessity.  Also, it seems that all things have their beds. The dogs like their beds, the garden vegetables like theirs, the bees their hive, the hens their perches, the tools their sheds.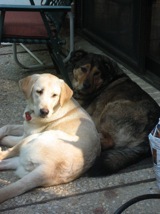 Everything has its place and purpose and a place to rest in.