The Beginning
Jan.13, 2009 was my 55th birthday. I had decided to take a year off from my career as a broadcaster and community organizer, with plans to write a second book. But on my birthday I had a vision that convinced me, this was the  year to also build a small farmette.  I had after a life time as an environmental and animal rights advocate  among other occupations, begun to wonder, just what would it take to grow our own food? What was involved in starting a small farmette from scratch? How did one do it? What would it take to create a garden, raise egg laying hens, and steward bees for the production of honey? This is a simple story of a mid-life inspiration about sustainable living in day to day action. While not everyone chooses to grow their own food on the scale we have as a beginning, what is possible is to take any small part of our experience and tailor it to your own needs.
Getting Started
My first decision was probably the most important one. I decided to take some of my remaining life savings from a gift my mother had given me at her death, to hire a young couple to develop with me, our small farmette undertaking. It was something my mother would have supported whole heartedly as during our childhood she was always importing farm animals for us to play with as pets. We had chickens, Mary the lamb, Maria the Goat, Seymor the racoon, Sammy the trick horse among the dozens of dogs and my few cats that shared our lives. I knew this was not a project I could or should do alone.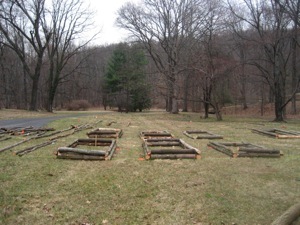 Dale and Leydin joined our farm project in the the second month of the undertaking. There was snow on the ground all winter long, and a prolonged frozen spring. Following that were weeks of rain that postponed planting for an entire month beyond our scheduled day. However,  while a month later than planned, the garden was completely planted by Mothers Day. A fitting beginning for our shared undertaking.
Planning the Basic Elements of the Garden

picking the garden site
identifying the water source
designing the beds
selecting the plants
designing the bed combinations
locating the plants and seeds
preparing the beds soil
planting the seeds
planting the plants

installing the trellis
installing the fence
establishing a watering and weeding routine
harvesting
storing
canning/freezing/drying
Farm Equipment
Truck
grass cutter
tiller
weed whacker
hand tools